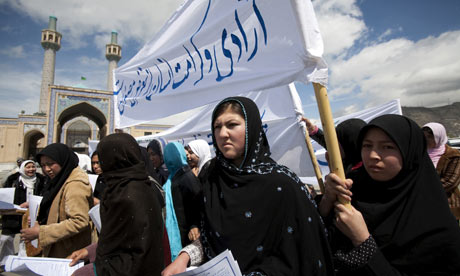 Afghan women protest at the proposed new family law Photograph: Robert Nickelsberg/Getty Images
(For more of my writing on this subject in the past, see When Will Women Matter; Faces; Will Women Pay for Peace in Afghanistan; and How Can I Bear It?.)
According to reporter Janine di Giovani:
Eight years later I returned, but the Afghanistan I found was far from jubilant. Despite the money poured into reconstruction and development, it is one of the five poorest countries in the world. There is 40% unemployment – nearly 80% in some parts of the country. A third of children under five are malnourished. Life expectancy is 43 – and it is one of only three countries in the world where women die earlier than men.
Did you read that statistic? LIFE EXPECTANCY IS 43 and women die earlier than men.
You would think, given those miserable statistics, that perhaps the United States and the Afghan government would be looking at ways to improve the lives of its people, especially its women.
Yeah, right. When things aren't going right in a society, what's the first thing that gets blamed? Lax morality. And who is responsible for lax morality? Yep. Us. Those daughters of Eve.
I arrived to meet women before the presidential elections next month and to talk about a new law, which if brought in, could have drastic repercussions for women. The Shia Family Planning law was signed last March by President Hamid Karzai in an attempt, many believe, to appease powerful mullahs. The Afghan constitution allows Shias to have a separate family law from the Sunni majority based on traditional Shia jurisprudence, and some think the law is linked to the August elections and the Shia electorate who would have to abide by it (they could form up to 20% of the electorate).
The proposed law led to furious protests from women's groups. It sanctioned marital rape and brought back Taliban-era restrictions on women by outlining when a woman could leave her house and the circumstances in which she has to have sex with her husband; Shia woman would be allowed to leave home alone "for a legitimate purpose" only which the law does not define, and could refuse sex with their husbands only when ill or menstruating.
You see? The best thing for a woman who is not going to live very long anyway is to just have sex with her husband whether she wants to or not; to stay in her house; and to keep her fucking pie-hole shut.
Following international outrage, Karzai backtracked and said the law would be reviewed. This month it was amended and re-signed by the president, but has not yet been ratified by parliament. Human rights groups say it is unclear how much the amendments have done to improve the law. And the law has already achieved its aim – instilling fear and insecurity among an already traumatised female population.
Soraya Sobhrang, a human rights activist I meet in her Kabul office, says, "The law will affect all women if it goes through. It opens the door for other repressive laws to be passed, for Sunni Muslims as well as Shia." A young doctor friend, Najeeb Shawal, says he is seeing more female patients who were depressed since news of the law emerged. "They have the kind of hopelessness that comes with knowing your life is incredibly repressed. And might become more so."
(Safia Amajan murdered in Sep. 2006 for daring to educate girls.)
Congratulations. The law is already working. We love it when women are depressed. That means we don't need to worry about them going outside and making a ruckus. Instead, they'll just stay inside, and, if we're really lucky, they'll stick their heads in gas ovens or set their burqas on fire. Everybody wins!
By the way. Karzai's original excuse for signing the law? He didn't read it before he signed it.
There are bright spots in Afghanistan:
Bamiyan is the home of the Shia Hazara, the third largest ethnic group in Afghanistan. I am surprised by the "city's" remoteness because there has been a huge outcry here from the women over the law: demonstrations, protests on the radio, grass roots organisations very quickly coming together. I meet one of the protest leaders in a small restaurant overlooking the holes in the mountain left when the Taliban blew up the ancient Buddha statues there in 2001. Batool Mohammadi is 27, black-robed, and heavily pregnant. "The law does not fit with humanitarian law," she says. Batool, a Hazara, comes from the generation of Afghan women born after the Soviet invasion and raised during the Taliban era. She has only known war, conflict and repression. The small window of triumph after the fall of the Taliban – who brutally repressed the Hazaras – has given her a taste of freedom and she is not ready to give it up. "In an area as traditional as Bamiyan, one of the major problems with this law is that it will stop the trend towards modernisation." As Batool leaves, she says that when her baby is born in June, she wants him or her to enter a world moving towards equality, not repression.
The governor, Habiba Sarabi, is the former Minister of Women and as a Shia will have to obey the law if it is passed. She meets us in her sparse office, a grim, Soviet-style building set on a windswept plain. There are plates of nuts and fruits and the governor, looking exhausted, nibbles dried apricot. At 53, Sarabi is no-nonsense. She is a chemist by trade and speaks good English. The daughter of an illiterate mother who encouraged her daughter to read and write, she tells me when she was young she was mocked as she walked to school alone. Having struggled so hard it was particularly hard to see her own daughter, now 24, denied education under the Taliban. The family escaped to Pakistan and Sarabi worked on human rights and women's projects.
On the new law, she tries to be diplomatic, but I can tell she is concerned: "Fortunately, women raised their voice." She is confident (perhaps overly so) that the law will not go through. But later, at her residence, when she curls her stockinged feet under her, she admits the wider crisis. Bamiyan is one of the few success stories in Afghanistan: it is poppy-free, the government functions well, and as she points out, "It is the safest place in Afghanistan. The rule of law is important here." She has improved the education and health services (instigating midwife programmes, for example, in a province that has one major hospital). But can this last? If, following elections, Karzai succumbs to the mullahs (who exercise huge political power in Bamiyan and the rest of the country), for how long will it be safe for women? Even Sarabi finally admitted that if the law is ratified, it would affect her too.
But those women who have been unaffected by these new laws are rare. And a lot of women are frightened: who wouldn't be?
Women who have managed to cross gender boundaries seem in a state of shock over the law. Jamila Barekzai is a police officer whose female colleague was killed by the Taliban last year in Kandahar for daring to do a mans' job. When I go to meet her at the Central Afghan Police Headquarters on the edge of Kabul, next to one of the biggest Shia mosques in the city, she is wearing her olive uniform and heavy black eyeliner. She was transferred from Kandahar last year to Kabul when she thought she would be killed too. She takes out her mobile phone and plays a recording of an unnamed Taliban telling her to stop working, "or you will be taught the lesson we taught your friend". She says she was mainly frightened for her children and touches the gun at her hip.
President Obama has committed more troops to Afghanistan, ostensibly for finding that guy (what was his name? the one who blew up the towers?) and gettting the increasing threat of terrorism from the Swot Valley in Pakistan under control.
But are women on President Obama's radar? Are we going to be willing to trade stability in the area for the lives of millions of Afghani women who will once again be confined to their homes, illiterate, ill-considered, depressed, and basic sperm receptacles for their husbands? Is this the legacy that Obama wants to leave in Afghanistan?
Or can we start, right from the beginning, by saying to Karzai that yes, we know you have us by the gas hose right now because you have access to that pipeline we want, but hey, women are people, too.
Please, President Obama. If we are to go to war in Afghanistan, make it mean something. I do not want to have to write in five years that we have subdued the terrorists, but once again, we have paid for it with women's lives.
President Obama, First Lady Obama, Secretary of State Clinton--anyone--everyone--who will listen: do not turn your backs on the women of Afghanistan. They are not collateral damage. We are not collateral damage of war. We are human beings. We have feelings. And bodies. And we hurt. And we ache. And we grieve. And if, once again, we are told that it is more important that we are treated like pieces of shit so that some problem may be solved, it may be that some of us may not be able to take that anymore.
So please.
I beg you.
On my knees.
For the women of Afghanistan.
Don't. Forget. Us.

When I leave, someone tells me the Taliban spring offensive has begun, American troops are pouring in, and President Karzai is beginning his political campaign. I keep thinking of Batool, the pregnant activist in Bamiyan, and her baby, and her life in 20 years' time. If the law does not pass and women continue rolling on, she has a chance. If not, she might still be wearing a burka and never learn how to drive.
Bitter? Moi?
Mais, non! I live in the greatest country in the world. Everything we touch turns to gold! Why, just look at all the great things we've accomplished in Afghanistan!